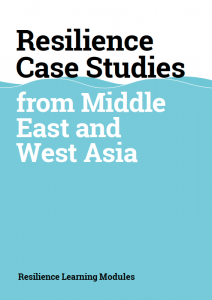 The COVID-19 pandemic and climate change have revealed that eliminating current risks is not sufficient for sustainable urban development. Water scarcity, floods, fast-growing population, inadequate infrastructure, and unplanned urbanization continue to challenge many cities of the Middle East and West Asia region. In order to achieve safer, resilient and sustainable cities, capable of managing unexpected shocks and underlying stresses, we must build resilience in economic, social, political, cultural, physical, and ecological terms.
Local governments play an integral role in this sense, as they are the main responsible bodies for providing basic services, coordinating day-to-day tasks and providing relevant information to citizens. They are also the main actors during recovery and reconstruction processes. Thus, local governments' successful initiatives can influence policies, actions and future outcomes both locally, nationally and globally. In that sense, this report, prepared in cooperation with UCLG's Regional Secretariat for Middle East and West Asia (UCLG-MEWA), aims to exemplify successful cases of DRR and resilience building in Turkish and Arabic cities, contributing to the understanding and contextualization of resilience building in the region.
The examples range significantly, from metropolitan cities to district municipalities with a focus on different areas and hazards. The cases presented have been gathered in the framework of the Resilience Learning Modules developed by United Cities & Local Governments (UCLG), together with UNDRR and UN-Habitat, which have been translated and adapted to Turkish and Arabic by UCLG-MEWA. As such, the cases are linked to the different chapters and lectures of the two modules, providing examples that can facilitate and enrich the organization of training and workshops based on these guidebooks across the region.
Read more about the impact of the Resilience Learning Modules and their roll-out in cities and regions across the world in this article.